Plastic and cosmetic surgeries are often portrayed in a negative limelight—especially when it comes to famous young people.
More often than not, natural beauty proponents tend to label plastic and cosmetic surgeries as something unnatural and even shameful, while, in reality, many of the world's best surgical procedures are oriented at enhancing the patient's natural facial traits and their beauty, rather than building them into Botox®-filled disasters.
It is also frequently believed that plastic and cosmetic surgeries are something that only older patients go for—while in reality people of all ages can benefit from and receive a lot of support through their cosmetic and plastic surgery journeys.
This article is aimed to show that many young stars that we recognize instantly owe a large part of their appearance to certain cosmetic and surgical procedures.
Here at Aristocrat Plastic Surgery & MedAesthetics, we're firm believers that all cosmetic and plastic surgery procedures should be aimed at enhancing the patient's natural traits and features, rather than transforming them into a completely different person.
Below are examples of how to do just that.
U.S. CELEBRITIES WHO'VE GOT PLASTIC SURGERY YOUNG
Within the current plastic surgery climate in the U.S. and the rest of the Western World, plastic and cosmetic enhancements are still considered somewhat a taboo.
Social pressure, media exaggeration and other factors contribute to building a negative image of the procedural spectrum, whereas in reality millions of patients every year undergo minor or major corrections.
Below are US-based celebrities that have either publicly spoken about their cosmetic surgery journeys or are evident to have undergone certain enhancements.
1. IVANKA TRUMP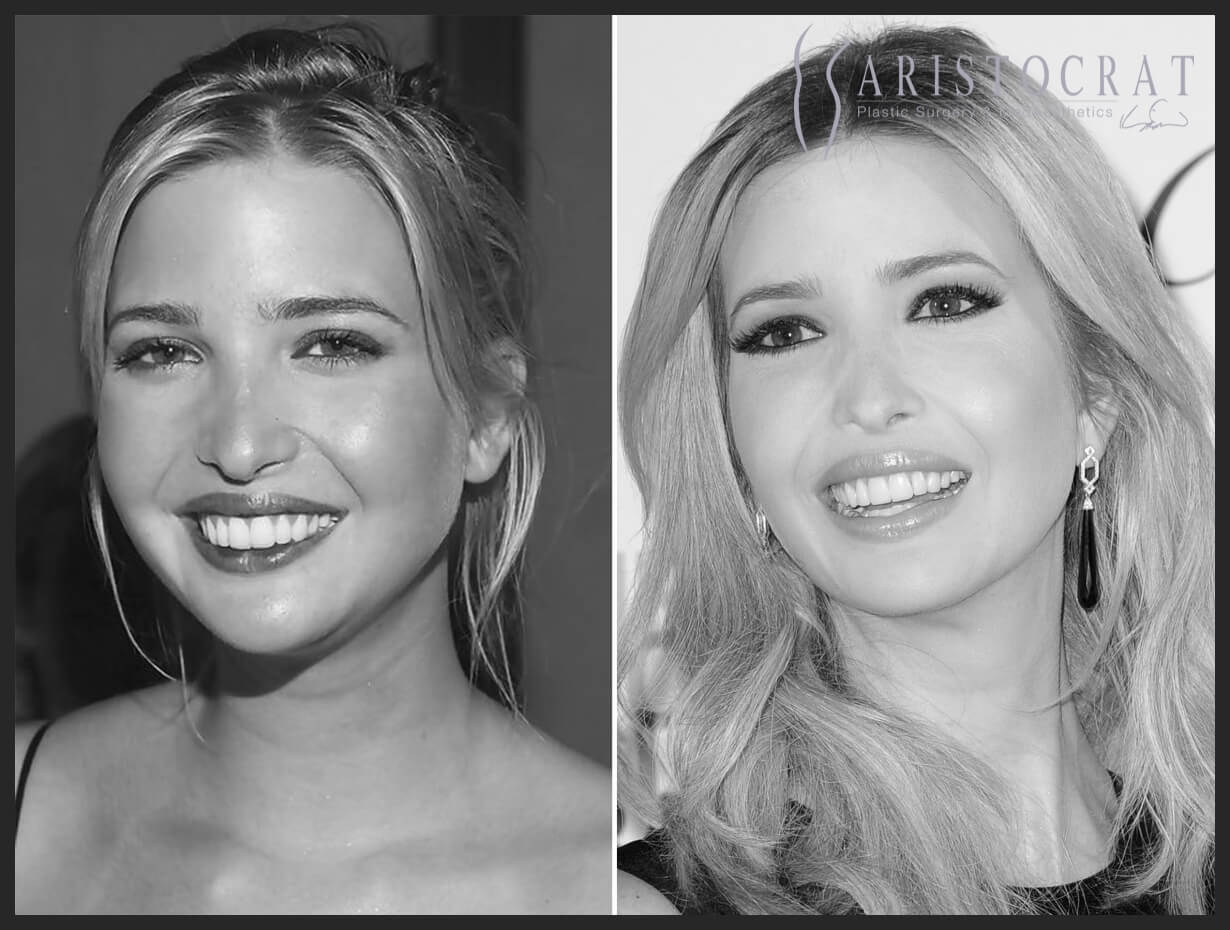 Procedures: Rhinoplasty (24-25), Breast Augmentation (26-27)
Daughter of the man himself, Ivanka has had several procedures that took the world by storm.
The first nose job she got between '04 and '05. It significantly altered the way her nose looked. No longer distinctive and pointing down, the procedure altered the President daughter's facial appearance significantly. The main accent was gone, giving way to a completely new look.
In '07—back when major boob jobs were still peaking in popularity—Ivanka stunned the free world with 'globes of her own' during the Golden Globe ceremony.
Everyone has a taste of their own, but there's no arguing that Ivanka's procedures have truly transformed her looks into that of a superstar.
2. MEGAN FOX
Procedures: Lip Augmentation
Most people have got to know Megan as the smoking-hot Mikaela in the Transformers movie series. After that, Chris of the Los Angeles Times titled the actress a "sex symbol of the highest order", while the men's mag FHM elected Fox as the "Sexiest Woman In The World" in 2008.
However, Megan didn't always have the sexiest woman in the world look per se.
What happened? Her lips! A masterful job by a plastic surgeon. This is an excellent example of what we're always trying to instill in our patients: the smallest details often produce the most dramatic results—they unlock your natural beauty, rather than artificially changing the way you look.
3. CINDY CRAWFORD
Procedures: Botox® (age 29), Collagen-stimulated Treatments
Even a world-class supermodel doesn't rely on her natural facial traits to keep her under the spotlight.
In her 20s, Cindy Crawford, one of the world's most successful supermodels, has been convinced against the use of plastic surgery procedures.
However, as the star started approaching her 30s, she recognized that diets, exercise programs and natural remedies do not always produce the optimal results. That's when she turned to the surgeon's knife for help.
Choosing Botox® facial injections as her go-to procedure, Crawford soon learned the difference between a good and a bad surgeon. Botox® procedures tend to produce frozen, unnatural facial expressions when overdone or done poorly.
4. KYLIE JENNER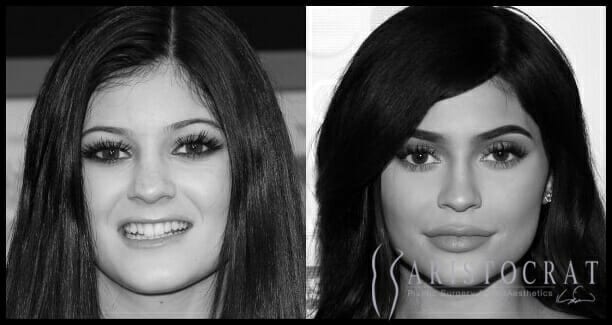 Procedures: Lip Augmentation
The trend-setter herself, Kylie Jenner is no stranger to lip augmentation procedures. In fact, those procedures have helped her set new standards in the world of cosmetic surgery.
"An insecurity" – that's how Jenner felt about her lips back in 2015, during an episode of The Kardashians, a popular TV show.
Kylie Jenner has been dictating a "more natural" direction in plastic and cosmetic surgery—at a time when extreme makeovers, such as major breast augmentation or Botox® procedures, were in decline.
Jenner is considered one of the most attractive and influential personas in cosmetics and the fashion world.
5. CARDI B
Procedures: Breast Augmentation, BBL, Liposuction
One of the "hottest" hip-hop stars of today, Cardi B has undergone several major plastic surgery procedures, including breast augmentation, brazilian butt lift and liposuction.
Given the artist's powerful and extremely feminine body proportions, it is easy to forget that she's just 26 years old.
The procedures have enabled the star to make her way to the top of one of the most competitive industries in just a few years.
6. EMILY BLUNT
Procedures (rumored): Lip Augmentation, Chin Implant
It would be difficult to find a person who doesn't love Emily Blunt. For any cinema aficionado, Emily is the guilty pleasure; a mixture of natural beauty and sheer acting ability.
Once again, the procedures embody something we're always striving to achieve: they enhance the actress's innate beauty, rather than altering her inborn facial features into something completely different.
Besides several rumoured cosmetic and plastic surgery procedures, Emily has also received help from our colleagues in the dental department—the veneers truly give her the "Hollywood" smile. Not that anything was wrong with the way she looked previously.
7. STASSI SCHROEDER
Procedures: Chin Implant, Breast Lift, Breast Reduction
Best known for her role in the reality television series Vanderpump Rules, Stassi Schroeder has undergone several procedures in her 20s that have transformed her from an adorable teenager into a top-tier superstar.
The most noticeable change was after the actress got a chin implant. Previously, before the procedure, the actress's face was more round, creating a fuller appearance.
After the chin lift implant surgery, Stassi Schroeder's face became much more distinctive—all of which was due to the now more pronounced jawline.
The actress has also proudly undergone a breast reduction procedure. To cite Stassi's own words, it was "one of the best decisions she's made."
8. ARIANA GRANDE
Procedures (rumored): Eyebrow Lift, Rhinoplasty
Labeled one of the most popular "teenage stars" of our era, there are indications that Ariana Grande has undergone a few minor cosmetic surgery procedures.
Based on pictures made from different angles, it can be speculated that Ariana has indeed undergone several minor procedures.
If that is the case, then it must be said that the surgeon did a masterful job—enabling the young star to shine in her true colors, enhancing her facial features without sacrificing the youthful appearance.
9. KOURTNEY KARDASHIAN
Procedures: Breast Augmentation
The surgeon's knife is no stranger in the Kardashian household, and Kourtney is no exception.
What makes Kardashians different from the other celebrities is their willingness to openly speak about the procedures, which we celebrate here at Aristocrat Plastic Surgery. Sculpting your body to enhance its natural beauty is nothing to be ashamed of.
Kourtney Kardashian has openly spoken about her breast augmentation procedures: "I have had breast implants, but it's so funny 'cause it's not a secret, I could care less."
10. BRITNEY SPEARS
Procedures: Lip Augmentation
Throughout the 2000s, Britney was in her prime—and undeniably one of the most attractive and famous pop stars out there.
The superstar does not feel ashamed about any of the procedures: "I have no problem trying new brands," says Spears. "A doctor I see, […] does fun stuff to me sometimes — I've had lip injections before. He has this peptide-based face-care product; it's green and slimy, and you mix it together and put it on your face. It does wonders. You leave it on overnight. Can you tell I love skin care?"
SOUTH KOREAN CELEBRITIES WHO'VE HAD PLASTIC SURGERY YOUNG
South Korea has recently emerged as the "plastic surgery capital of the world."
There are several important differences about cultural attitudes towards plastic surgery in South Korea.
First of all, Korean stars are much more open to the idea of surgical intervention. Unlike many U.S. celebrities, Korean communities do not paint plastic and cosmetic surgery in a negative light—instead, they embrace it as a means to achieve a desired look, similar like one would approach buying clothes or getting a haircut.
It is also evident that there is much less controversy about getting cosmetic enhancements while young. Multiple Korean pop stars—many of which are still in their 20s—are public advocates and proud wearers of their surgery-enhanced faces.
That level of tolerance and open-mindness is something we're yet to see here in the U.S.
11. KWANGHEE
Procedures: Rhinoplasty, Chin Implant, Eyebrow Corrections
Hwang Kwanghee, also referred to frequently as just Kwanghee, has debuted his entertainment career in the boy band called ZE:A. Kwanghee is one of the best-known musical and TV personalities in South Korea.
Only 20 years old at the time, Kwanghee has publically spoken about his plastic surgery procedures. He has openly discussed and advocated his many plastic and cosmetic surgery procedures, including alterations to his jaw, nose and eyebrows.
Despite that, many fans of the Korean pop-music scene consider Kwanghee as their idol.
Currently, Hwang Kwanghee is considered somewhat of a plastic surgery spokesperson in South Korea and across the world. He frequently recommends his following which times of the year are best to undergo the knife, and that everyone should explore surgical options.
12. KIM HYUN-JOONG
Procedures: Rhinoplasty (reconstructive)
Despite the highly pro-surgical attitudes in South Korea—especially when it comes to celebrities—Kim Hyun-joong underwent the knife due to more practical reasons.
During an unfortunate incident, Kim received a devastating blow in the nose, which would have spelt the end for the young star's career.
Fortunately, the surgeon's knife has worked wonders to restore—and even enhance—the young star's facial appearance. Before the procedure, Kim asked the surgeon to raise the nose bridge a little as well.
Kim Hyun-joong continues to appear in musical and TV events. His most famous achievements remain being a part of the popular boy band SS501 and playing a role in multiple episodes of the South Korean drama Boys Over Flowers.
14. JUNG CHAE YEON
Procedures: Rhinoplasty, Eyelid Surgery (rumored)
For many of the fans, the reveal of Jung Chae Yeon's, a member's of the popular South Korean music band DIA, came as a surprise.
Such was the natural appeal of the singer's beauty.
During an episode of Video Star, a Korean television show, the celebrity herself admitted to have undergone a nose job (rhinoplasty.)
While it was also speculated that Yeon has undergone an eyelid surgery as well, the singer addressed these rumours by explaining that her eyelids were fully natural and no cosmetic adjustments have been done.
15. PARK MIN YOUNG
Procedures: Eyelid Surgery, Rhinoplasty
One of the brightest South Korean acting stars, Park Min Young is known for her roles in television series City Hunter, Glory Jane, Dr. Jin, A New Leaf, Healer, Remember: War of the Son, Queen for Seven Days and What's Wrong with Secretary Kim.
Min-young has also starred in popular Korean movies such as The Cat, Anyang and Paradise City.
During an interview with Sports Chosun, the celebrity actress has admitted to have undergone surgical procedures in her youth.
Park Min-young has openly spoken about getting a double eyelid surgery in her youth. She even mentioned the fact that her mother was very supportive throughout her entire cosmetic surgery journey.
She also admitted to having undergone nose surgery, since "her nose was crooked during junior high school," as the actress put it.
The star has confessed that she had a lot of insecurities about her face during her teenage years, and that undergoing corrections has helped her tremendously in reestablishing her feeling of self-worth.
16. UEE
Procedures: Eyelid Surgery
Another common face on the South Korean entertainment landscape is Kim Yu-jin, better known by her stage name Uee.
Yu-jin was the member of a popular Korean girl-band called After School from 2009 to 2017.
During an episode of Sang Sang Plus, the South Korean celebrity has openly shared her plastic and cosmetic surgery experiences.
"A lot of people ask me if I got plastic surgery after debut," Uee said. "My eyes are naturally uneven so I wanted to even them out. That's why I had a minor surgery on my eyes, that's it."
17. MINZY
Procedures: Rhinoplasty
Best known for her memorable dancing performances as part of 2NE1, one of the major South Korean pop-bands for many years, Gong Min-ji has been shying away from comments about plastic surgery for a long time.
Through her agency, a major player on the Korean entertainment scene EG Entertainment, Minzy has admitted in 2013 to having undergone plastic surgery enhancements.
The procedure of her choice—rhinoplasty—wasn't fully cosmetic, as the singer was suffering from rhinitis, a condition causing chronic sneezing or a congested, drippy nose with no apparent cause.
Despite years of denial, both Minzy and her agency are now outspoken advocates of plastic surgery.
KEY TAKEAWAYS: THIS ISN'T JUST ANOTHER CELEBRITY LIST
We compiled this list for a reason.
There are a lot of myths and misconceptions about cosmetic and plastic surgery procedures.
Some people believe that going under the knife is a sign of superficiality and empowering unhealthy standards. As these beautiful examples show, successful cosmetic adjustments are subtle and empowering.
They let people both old and young to shine in their brightest colors, rather than "corrupting" them to superficial values, as many believe.
The other thing we face a lot is the myth that plastic and cosmetic surgery is only a tool for older people to restore their youthful appearance.
As these beautiful young people have shown, that is not true as well. Many famous young people—who have a lot of lose in terms of reputation—have openly spoken about their plastic surgery journeys, receiving support and understanding from their fanbase, family and friends.
Some of these stars have even stated that their parents were extremely supportive throughout their cosmetic surgery journeys in their teenage and early adult years.
Undergoing the knife to adjust your appearance is no longer considered a shortcut—it is an act of courage and determination—even among the young.
The last big thing we hear is that plastic surgery fosters unrealistic expectations for young teenagers, setting beauty standards that are simply impossible to achieve without surgery.
While that last point could be debated, we'd like to note that most of these young stars were intrinsically motivated, as they openly shared in their aired statements.
They didn't go under the knife to look like a certain person, or because of a clause in the contract: they did so because it helped them overcome their inner insecurities, unleash their best personal qualities and, as a result, supercharge their careers.
REFERENCES
1."Ivanka Trump, Before and After" by The Skincare Edit. Source: https://theskincareedit.com/2014/02/07/ivanka-trump-before-and-after
2."Megan Fox" by Wikipedia. Source: https://en.wikipedia.org/wiki/Megan_Fox
3."Transformers star 'sexiest woman" by BBC. Source: http://news.bbc.co.uk/2/hi/entertainment/7364647.stm
4."CINDY CRAWFORD: HOW Botox® KEEPS HER FEELING BEAUTIFUL" by Soheila Rostami. Source: https://www.beauty4eye.com//cindy-crawford-/
5."Cindy Crawford Plastic Surgery: Don't Think So It's a Fake News" by The Stars Mag. Source: https://www.thestarsmag.com/cindy-crawford-plastic-surgery/
6."Kylie Jenner: Her complete plastic surgery timeline – before and after"
by Emmeline Saunders. Source: https://heatworld.com/celebrity/news/kylie-jenner-plastic-surgery-timeline/
7."Kylie Jenner Discusses Plastic Surgery in Her "Paper" Cover Story" by Teen Vogue. Source: https://www.teenvogue.com/story/kylie-jenner-plastic-surgery-paper-cover
8."Cardi B Responds to Critics of Her Nude Photo, Talks Plastic Surgery Plans & More: Watch" by Billboard. Source: https://www.billboard.com/articles/columns/hip-hop/8472202/cardi-b-nude-photo-plastic-surgery-trump-taxes-instagram-video
9."Emily Blunt, Before and After" by The Skincare Edit. Source: https://theskincareedit.com/2019/01/23/emily-blunt-before-and-after
10."'One of the best decisions I've made': Stassi Schroeder proudly displays her breast reduction scars after revealing graphic surgery photo on Vanderpump Rules" by The Daily Mail.Source: https://www.dailymail.co.uk/tvshowbiz/article-5301229/Vanderpump-Rules-Stassi-Schroeder-shows-breast-surgery.html
11."Ariana Grande, Before and After" by The Skincare Edit. Source: https://theskincareedit.com/2016/08/26/ariana-grande-before-and-after
12."Kardashians in Exclusive 'Nightline' Interview" by ABC News. Source: https://abcnews.go.com/Nightline/kardashians-nightline-interview/story?id=10689693
13."BETTER OR WORSE: CELEBS WHO HAVE HAD PLASTIC SURGERY:
BRITNEY SPEARS" by Eonline. Source: https://www.eonline.com/shows/botched/photos/12812/better-or-worse-celebs-who-have-had-plastic-surgery/393399
14."Why South Korea is the plastic surgery capital of the world" by Business Insider. Source: https://www.businessinsider.com/south-korea-is-the-plastic-surgery-capital-of-the-world-2015-9
15."ZE:A's Hwang Kwanghee Stands Proud Behind His Plastic Surgery Procedures" by Seoul TouchUp. Source: https://www.seoultouchup.com/zeas-hwang-kwanghee-stands-proud-behind-plastic-surgery-procedures/
16."Kim Hyun Joong Admits to Plastic Surgery for First Time" by Soompi. Source: https://www.soompi.com/article/363964wpp/kim-hyun-joong-admits-to-plastic-surgery-for-first-time
17."Lee Si Young Confesses She Had Plastic Surgery" by Soompi. Source: https://www.soompi.com/article/509683wpp/lee-si-young-confesses-she-had-plastic-surgery
18."Plastic Surgery Meter: Uee, After School" by K-Pop Surgery. Source: https://kpopsurgery.com/plastic-surgery-meter-uee-school/
19."2NE1's Minzy admits to receiving cosmetic surgery for her nose" by All K-pop. Source: https://www.allkpop.com/article/2013/11/2ne1s-minzy-admits-to-receiving-cosmetic-surgery-for-her-nose
20."Nonallergic rhinitis" by Mayo Clinic. Source: https://www.mayoclinic.org/diseases-conditions/nonallergic-rhinitis/symptoms-causes/syc-20351229